God was SO good and gave me another year and a half with my sweet Ginger-Muffin and then her body started to struggle again. She was being monitored weekly by our regular vet … and THEN … she tore her ACL and couldn't stand up or walk! I was literally heartbroken and hysterical thinking it was the inevitable end. She was now a 12-year-old dog that was slowing down and physically incapable of walking from her injury.
When she tore her ACL, I started calling rehabilitation facilities to get her immediate help. I was desperate! The ones closest to me were on a 2 – 6 MONTH wait for a consultation so we wound up going to Michigan State who could get us in 4 weeks after her injury. I felt so sad and helpless that I had to wait so long to help her.
In May 2022, Ginger had TPLO surgery to repair her torn ACL. It was hard to watch her suffer, but it was SO WORTH IT in the end. Just before her surgery (and after) I was able to start therapy closer to home at Animal Rehab Center of Michigan in Waterford. Ginger continued her rehabilitation by doing strength building exercises, stabilizing activities, and she used a low impact canine aqua treadmill. They also utilized recovery tools on her such as a cold laser and tPEMF therapy.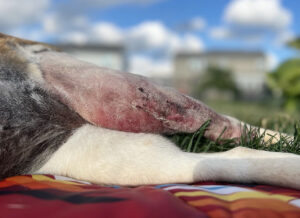 ***Side Note: Fit Dog WILL NOT perform rehabilitation services for injured or post-surgery dogs. But if you want an AMAZING PLACE for rehab, we TOTALLY endorse Animal Rehab Center of Michigan.***
I WAS and STILL AM MIND BLOWN at how my little old lady has turned into a higher energy, stronger, more playful, happier dog! She turned 13 in November of 2022 … I am tearing up writing this just thinking about all that she has overcome … the amazing team at Animal Rehab Center of Michigan was able to help her become a strong little athlete at her old age! You can tell she is SO HAPPY and feels SO GOOD!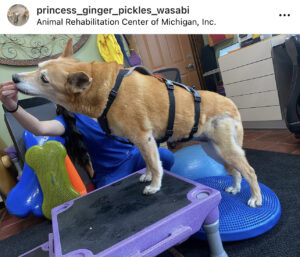 I was so inspired by her progress and growth; I told my husband I was destined to do more for Ginger! So I researched buying my own equipment for Ginger and researched how to get certified in Canine Fitness so I could continue to help her, as well as my other two dogs Pickles and Wasabi.
As I continued to learn more, I discovered my next calling.. I wanted to help ALL dogs be better physical, mental and emotional versions of themselves!
Canine fitness can help to prevent your dog from going through what Ginger did. A healthier, more fit dog has stronger joints & muscles but also a stronger heart, immune system, and as a bonus, A LOT more confidence … all of this means your dog has WAY less risk of injury, illness and disease. And they'll live a happier, more joyous and more enriched life!
Ginger won't be here forever, but her legacy will live on at Fit Dog as we continue to help more dogs live longer, healthier, happier lives! Thank you for reading my story about my sweet Ginger-Muffin.